Active Adventure For Vacation
This spring, we went on a family adventure outdoors! We try to stay active and be creative with our adventures. This one topped them all! For Christmas, I gave my husband a gift of one night's stay at the Hike Inn at the base of the Appalachian Trail. It's an interesting place as you literally have to hike there with your belongings. You can not drive to the inn. I originally planned to just send him alone as he had always wanted to do this and I physically could not for several years due to my autoimmune issues. However, since my rheumatoid arthritis is now in remission, we went as a family instead! It was my first hard core test on my body since the healing has occurred.
In early March, we packed up some back packs and headed to Amicalola State Park. You park your car there, check in so they know you are headed out(will know if you don't make it to the end) and then hit the trail. It is several hilly miles to get to the inn so I was a little nervous. Our kids are just 7 and 9 years old. They had to carry a bag too. We packed some snacks, a change of clothes and headed out!
We shut down the phones and unplugged.
Everyone talked and laughed! We even hugged a few trees. Along the trail, another hiker walked up behind us and we got to talking. She ended up hiking the whole way with us and we became friends. My kids make fun of me because they say I "make a friend everywhere I go". Oh well…life is not meant to be done alone! In addition to making friends, there were some beautiful views of the Blue Ridge mountains to see and some fun adventures like walking across little bridges, under a "cave" of wild rhododendron's and we found a few creatures like toads, etc as we hiked. I actually held up just fine and it was a great accomplishment to make it to the inn in a really fast time. We just kept on trucking until we got there!
Once you are there, each room has bunks and they show you to the bathhouse. It's actually really nice. Everything is a "cabin feel", they are extreme recyclers and there are lots of fun things to do like corn hole, board games,  books to read, trails to hike, a fire to sit by and chairs to rock in on a porch with the most incredible view ever. Check out the sunrise!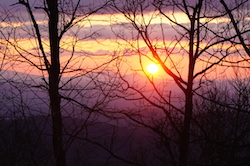 You eat "family style" and the food is fabulous! All home cooked and you meet lots of new friends while you eat together. Right up my alley! They do some neat things like compost the organic waste and there is a worm farm too. I won't ruin all their secrets as you need to go there to see this for yourself. It's amazing and inspiring to make you want to waste less and appreciate nature more!
We just spent one night, but will do two nights for sure next time as we did not want to leave. The hike home was done on a longer route that was along the approach to the real, official Appalachian Trail. We met people just starting out that planned to hike all the way to Maine! Wow! One was a girl in her 20's! The inn had sent us with packed lunches and we ate them on a giant tree that had fallen in the forest. I had a hummus sandwich that was incredible. The kids had peanut butter sandwiches, an apple and they included giant fresh baked cookies which the kids loved.
The total hike was 11 miles total for the portion that we completed on our two day adventure. I was barely sore and had no flare-ups. The RA was put to the test and it stayed dormant. I feel so blessed! It was a huge accomplishment personally, but also as a family. Our kids loved every second and hopped, skipped and ran along that trail. They were amazing! We will definitely do this again! I hope that, as they grow up and raise their own families, they will be able to share experiences like this with their kids!