5 really cool ways to use pure essential oils!
It is time to get random, but you will love these tips!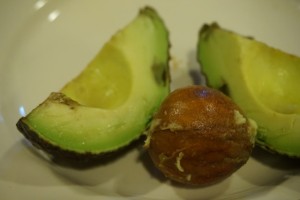 Do you LOVE avocados, but sometimes you only want half?  This happens to me and I hate to waste the other half if just using a few slices on a salad. Don't get me wrong, I LOVE to eat the whole thing, but I am trying to get some weight off! Healthy fats in limited quantities is the goal here people! Here is a picture of an avocado in my frig after a week! Yes. A week! You want to know the trick? Two drops of pure lime oil, roll that around and then you can keep it covered in the frig in a container until you are ready to use it. Mine barely brown and look great on the inside! They will keep great for several days. These pictures are after a week! So, I was really pushing my luck and was pleasantly surprised!
Hate cleaning toilets because of the horrible fumes from the cleaners (amongst other reasons)?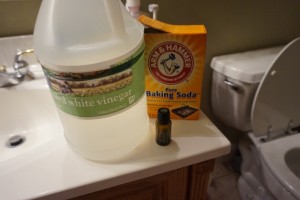 Try this all natural Toilet Bomb! Just take a ¼ cup Baking Soda, ¼ cup white vinegar and a few drops of pure melaleuca or basil oil! These oils are natural enemies to bacteria! Go to http://www.pubmed.org to see studies done on both of these amazing oils. The aromas are pleasant and uplifting vs gagging over Scrubbing Bubbles or Comet. Toxin free is the way to be!
All the cool people limit their toxic intake…
Are your clogged sinuses bringing your down?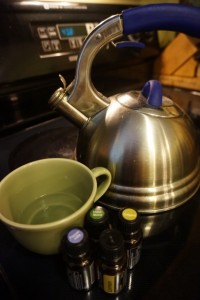 Steam a cup of water then add 1 drop each of PURE melalueca, oregano, peppermint and lemon essential oils. Cup your hands over the top, close your eyes and inhale deeply to enjoy the immediate health benefits. Unruly sinuses can drain gently and you are inhaling oils into your system that can contribute to a path to wellness. No yucky Neti pot needed. How? Here are a few reasons…melaleuca promotes healthy immune function and protects against environmental and/or seasonal threats. Peppermint promotes healthy respiratory function and clear breathing. Lemon oil purifies the air and surfaces. It naturally cleanses the body and supports healthy respiratory function. It also can promote a positive mood! Oregano supports a healthy immune system and is often used as a powerful cleansing and purifying agent . Good stuff! Might want to throw it in your "toilet bomb" mix too.
Sleep! Who wants to sleep more soundly? Me!!! We diffuse pure lavender oil next to the bed side every night. You can also spray it on your pillows. Don't have a diffuser yet?  Just take a glass or stainless steel bottle, add 20 drops lavender and 1 cup of distilled water. You can use less or more lavender oil to your liking. Be amazed at the results! Lavender is very calming to the system and promotes a healthy night's sleep! It also can help relieve some anxious feelings for some people. That's a bonus! It may or may not help a certain man I know be more quiet in his sleep. No names mentioned here. I may or may not put a drop on his nose. I plead the 5th!
Ok so now we are calm, have sparkling toilets and have full bellies with a healthy snack…
Sharpies! The most brilliant and most frustrating invention on the earth! What do you do when a child gets Sharpie on your leather couch??? Lemon oil to the rescue! Test an inconspicuous spot first of course. Then apply a small amount using a soft cloth and be amazed and the results. Kid tested and mother approved at this house! Lemon oil is amazing at removing all sorts of stains in various surfaces. Just test it first in a small area to be safe! I have personally not messed up anything yet. Only had good results so far in our home…including a 3 ring binder that my child mislabeled for school. Wrong word or do you want to recycle last year's folders? No problem! Wiped it right off! We now use it in my natural furniture polish recipe too! Another way to use it is to get it off your kids skin. They constantly use these for swim teams and at school fun runs on children's arms. Get that junk OFF when you can with ease using lemon oil! I doubt its good for them to wear Sharpie, but we will save that for another article.
When in doubt, see if pure lemon oil will get it out!
Want to know more about the oils? I teach classes and do free consultations. Just click the contact me button or comment below! I love to educate people on the uses of essential oils! Just trying to get "real" in every way we can and eliminate toxins from our lives! I hope that the www.thereallife.rocks helps encourage you to do so as well! That's my purpose and passion these days…to encourage ALL of us to move towards a healthier lifestyle!